Temporarily Closed
| | |
| --- | --- |
| Sunday | 10:30AM - 8:00PM |
| Monday | 10:30AM - 8:00PM |
| Tuesday | 10:30AM - 8:00PM |
| Wednesday | 10:30AM - 8:00PM |
| Thursday | 10:30AM - 8:00PM |
| Friday | 10:30AM - 8:00PM |
| Saturday | 10:30AM - 8:00PM |
Executive Chef
Charlie Knowles
From SD to LA to SF, the kitchen saved my life. I get out of bed every day thinking about FOOD! Learning, eating, looking, playing, everything about food, and mentoring my team to grow as cooks.
Watch the Chef in Action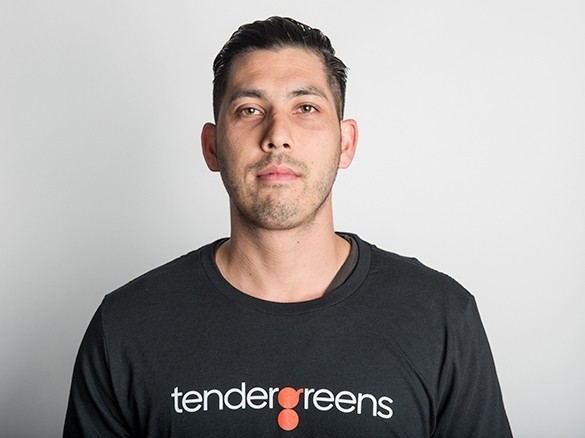 May 22nd
Good News
#TGMS20 For $9, you can enjoy our new plant-based Mediterranean Burger or our Classic Burger made with real ingredients and housemade condiments on brioche buns⁠—both come w/ shoestring fries. Available for a limited time. Get yours now! https://t.co/h57L71Qx6z
@eattendergreens
Pacific Bowl is Back
This is what you've been missing. Reunite your taste buds with our Pacific Bowl with your choice of katsu chicken, togarashi tuna or togarashi salmon on a yummy bed of sushi rice. It's finished with spicy miso mayo, pickled cucumber, carrot, greens, sesame and ginger dressing. Order online or in-app now.