Temporarily Closed
| | |
| --- | --- |
| Sunday | 10:30AM - 9:00PM |
| Monday | 10:30AM - 9:00PM |
| Tuesday | 10:30AM - 9:00PM |
| Wednesday | 10:30AM - 9:00PM |
| Thursday | 10:30AM - 9:00PM |
| Friday | 10:30AM - 9:00PM |
| Saturday | 10:30AM - 9:00PM |
Executive Chef
Charlie Knowles
From SD to LA to SF, the kitchen saved my life. I get out of bed every day thinking about FOOD! Learning, eating, looking, playing, everything about food, and mentoring my team to grow as cooks.
Watch the Chef in Action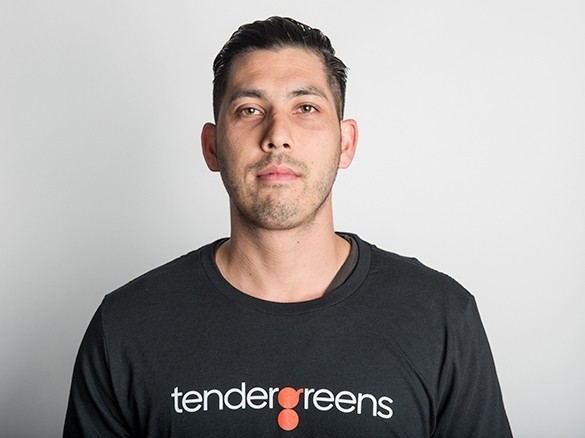 August 31st
Good News
#TGMS20 Meet our September Special, The Chicken Adobo, inspired by Filipino cuisine. Made with braised chicken, house-made fried onions, pickled cucumbers, & soy-marinated egg on a bed of sushi rice with watercress, lemon vinaigrette & toasted sesame seeds. All this for $11.50. https://t.co/Gg9ESmIoBc
@eattendergreens
Introducing Heirloom Toast
Summer is peak heirloom tomato season, so it's only right our chefs whipped up a new special to highlight this delicious ingredient. The Heirloom Toast features lemon ricotta, sherry vinaigrette, Aleppo pepper, Maldon salt and freshly picked herbs on sourdough bread. Finished with a drizzle of balsamic glaze and chili oil for a little heat, this is the perfect snack or light lunch. Order in our app or online now!